TAX ADVANTAGES
Whether driving to a meeting in challenging road conditions or navigating these unprecedented times, the world is much more appealing from the driver's seat of a new Land Rover vehicle. 
Take advantage of an accelerated tax depreciation schedule to help increase your company's bottom line.*
Since the Range Rover, Range Rover Sport, Land Rover Defender 110 and Land Rover Discovery have Gross Vehicle Weight Ratings (GVWR) greater than 6,000** pounds, they can be fully depreciated in the first year of ownership when used for business 100% of the time, giving you the freedom to spend on the things that matter most. 
TAX DEPRECIATION COMPARISONS
These comparisons illustrate the tax depreciation advantages for business owners who purchase a new Range Rover, Range Rover Sport, Land Rover Defender 110 or Land Rover Discovery before December 31, 2020.† Please consult your tax advisor to determine how this information can be applied to your individual business situation.
Make an Inquiry
By submitting this form, I understand that Land Rover of Naperville may contact me with offers or information about their products and service. I also consent to Land Rover of Naperville sending SMS (text) marketing messages to the number I have provided. I understand that I do not have to consent in order to obtain any of our products or services. Message and data rates may apply.
  $90,900 Range Rover‡  VS. $90,900 Luxury Car 
Total allowable depreciation for the 1st year of 
ownership
†

     Range Rover VS. Luxury Car
      Range Rover¹

     100% 

     Luxury Car²

     20% 
    $68,650
Range Rover Sport‡
 VS. $68,650 Luxury Car 
Total allowable depreciation for the 1st year of 
ownership
†

       Range Rover Sport VS. Luxury Car
      Range Rover Sport¹
     100% 
      Depreciation
     $68,650
      Luxury Car²
     26% 
      Depreciation
      $18,100
 $52,300 Land Rover Discovery‡ VS. $52,300 Luxury Car 
Total allowable depreciation for the 1st year of 
ownership
†

   Land Rover Discovery VS. Luxury Car
      Land Rover Discovery¹
     100% 
      Depreciation
      $52,300
   Luxury Car³
   32% 
   Depreciation
   $16,860
   $49,900 Land Rover Defender 110‡ VS. $49,900 Luxury Car 
Total allowable depreciation for the 1st year of ownership
†

    Land Rover Defender 110 VS. Luxury Car
        Land Rover Defender 110¹
     100% 
     Depreciation
      $49,900
     Luxury Car²
     34% 
     Depreciation
     $16,860
Shop New Land Rover Vehicles
Range Rover
View Range Rover Inventory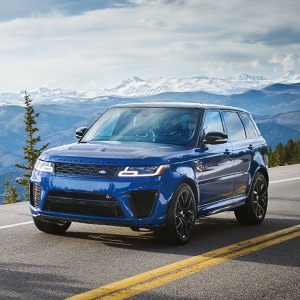 Range Rover Sport
VIEW RANGE ROVER SPORT INVENTORY
Land Rover Discovery
View Land Rover Discovery Inventory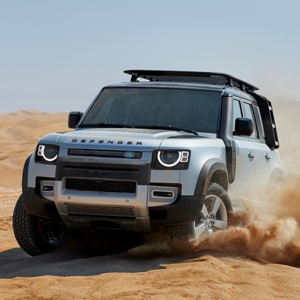 Land Rover Defender 110
View Land Rover Defender 110 Inventory
Make an Inquiry
By submitting this form, I understand that Land Rover of Naperville may contact me with offers or information about their products and service. I also consent to Land Rover of Naperville sending SMS (text) marketing messages to the number I have provided. I understand that I do not have to consent in order to obtain any of our products or services. Message and data rates may apply.

Vehicles shown: 2020 Land Rover Discovery HSE 3.0-Liter LR-V6 Supetcharged. 2020 Range Rover P525 HSE 5.0.Liter L525 V8 Gasoline, and 2020 Range Rover Sport HSE with Dynamic Pack 5.0-Liter V8 Supercharged.

*Individual tax situations may vary. Information accurate at time of publication. Federal rules and tax guidelines are subject to change. Consult your tax adviser for complete details on rules applicable to your business. 

** The Range Rover, Range Rover Sport, Land Rover Discovery and Land Rover Defender 110 have gross vehicle weight ratings (GVWR) greater than 6,000 pounds and are classified as heavy SUVs. As such, these vehicles can be fully depreciated in the first year of ownership when used for business 100% of the time, GVWR is the manufacturer's rating of the vehicle's maximum weight when fully loaded with people in the cargo. See your local authorized Land Rover retailer for details. 

† Comparisons based on Section 179 and 168(k) of the Internal Revenue Code, which allows for additional first year depreciation for eligible vehicles and reflects figures for owners who purchase vehicles for 100% business use and place vehicles in service by December 31, 2020.

‡ Price comparison figures are calculated using the Base Manufacturer's Suggested Retail Price for the 2020  Range Rover Standard Wheelbase. 2020 Range Rover Sport SE, 2020 Land Rover Discovery SE and 2020 Land Rover Defender 110 Base. Price excludes $1,350 destination.handling charge, tax, title, license, and retailer fees, all due at signing, and optional equipment. 

1. Range Rover, Range Rover Sport, Land Rover Discovery and Land Rover Defender 110 are fully depreciated in year one. 

2. Luxury car depreciation can continue year two at $16,100, year three at $9,700, and $5,760 per year for each succeeding year until the vehicle is fully depreciated or sold.

3. Luxury car depreciation can continue year two at $14,176, year three at $8,506, and $5,103 per year for each succeeding year until the vehicle is fully depreciated or sold. 




© 2020 Jaguar Land Rover North America, LLC