Parts and Accessories Payment Plan at Land Rover of Naperville
We're making it easier to order Land Rover genuine parts or Land Rover accessories and tires.
0% APR interest for 90-days*
AVAILABLE WHEN ORDERING LAND ROVER PARTS AND ACCESSORIES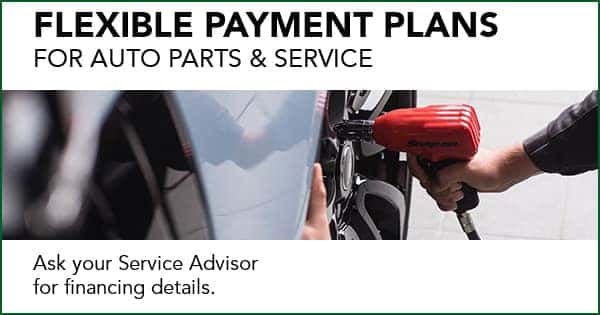 Stress-free to apply!
Apply online or at the dealership
90% of people are approved
30-second application
No hidden costs or fees
Doesn't impact your credit to apply
No paperwork
Simple interest with no pre-payment penalties
What you'll need
Your email address
State-issued ID or driver's license
Bank-issued debit card
Must also be 18 years of age (or higher, as required by state law)
Have a physical street address or APO/AFO address
Here is an example: A $300 purchase with 0% APR, repayable over 3 months, would have a down payment of approximately $42 and monthly installments of $86.
LEARN MORE AND GET PRE-APPROVED
PARTS AND ACCESSORIES SPECIALS
ORDER PARTS AND ACCESSORIES
SHOP TIRES
Taking care of you every day, that's the Patrick Promise!
Is there a credit check?
When applying, we perform a soft credit check, which helps us determine if you are eligible. A soft credit check does not impact your credit score. Your credit score may be affected when accepting a loan to complete a purchase or opening an account.
Do I have to pay anything upfront?
Yes, you are required to make a down payment when you are finalizing your purchase. This down payment goes toward your total purchase amount. If you apply and are pre-approved, you'll be able to see the exact down payment amount for your purchase.
To learn more simply complete the pre-qualifying process through Sunbit, submit an inquiry, talk to a Land Rover of Naperville Service Advisor or call us at 888-430-1096 for more details.
*The 3-month 0% APR plan is available for all approved customers. Example: A $300 purchase with 0% APR, repayable over 3 months, would have a down payment of approximately $42 and monthly installments of $86. Actual approval amount, APR, and down payment vary and are based on creditworthiness, state of residence, and loan term. No application, origination, account opening or pre-payment penalty fees. Financing offered is made by Transportation Alliance Bank, Inc. dba TAB Bank. Must be 18 + years of age. Financing is subject to approval, based on creditworthiness, state of residence, your prior history with the products offered using Sunbit technology.

If you pre-qualify, you will be able to see your APR, monthly payments, and total finance charges. A completed pre-qualification is valid for 14 days. To finance products, parts, or services at a merchant location before the pre-qualification expires, you will need to present your state-issued ID or driver's license, make the required down payment with a bank-issued debit card and choose a payment method for recurring payments. Any terms presented during the pre-qualification are subject to a continuing ability to meet the criteria used for the pre-qualification.