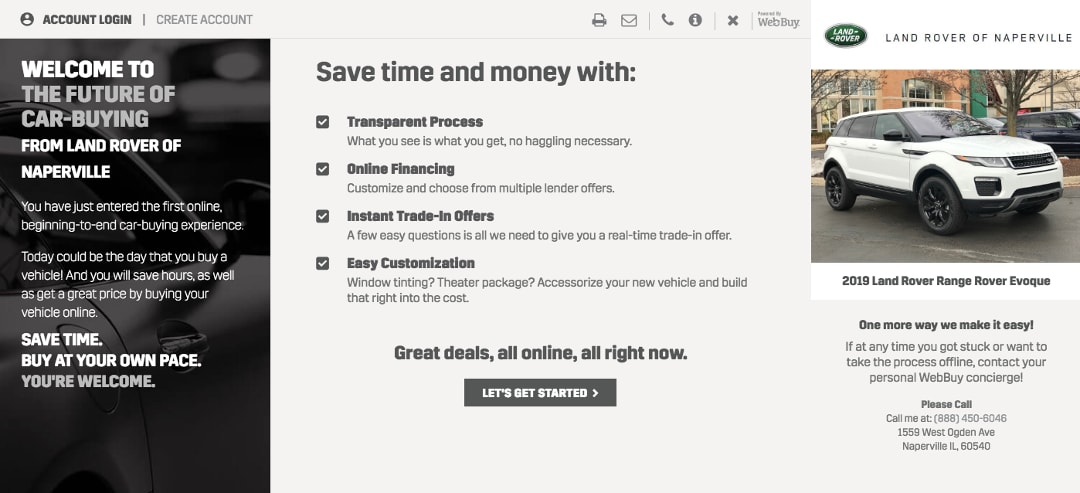 ?
Select, finance, and purchase your next car from the comfort of your couch when you use WebBuy, a comprehensive car-buying app available to you from Land Rover of Naperville! You'll be able to complete the entire car shopping process at home; from browsing our new Land Rover inventory, to signing on the bottom line. Make buying a new car in Naperville easier than ever!
What is WebBuy?
WebBuy is an online app that allows drivers the ability to buy their next vehicle from home. This tool is integrated into the Land Rover of Naperville website, and can be accessed from both desktop and mobile. With WebBuy, you complete every step you would in the dealership, including:
Browsing new and used inventory
Value your trade-in
Explore finance and lease offers
Add on car accessories and packages
Add a co-signer
Sign your contract
WebBuy is very easy to use. After finding the car you want, click the "Buy Now" button on the car's inventory page. This will launch the WeBuy app and begin the process. You will be given easy-to-follow instructions at every step, and if you have questions along the way, you can utilize our online chat for support.
Benefits for Buying a Car Online
If you've ever wished buying a car could go at your own pace, using WeBuy to purchase online is the perfect solution for you. You'll have 24/7 access to our inventory, and can start the process at any time that's convenient for you. You'll also be able to take your time evaluating any trade-in values and all your available cash, finance, and lease options. We understand many people get nervous at the dealership, but buying online eliminates that worry, giving you access to all the same options you'd receive in person.
Use WebBuy Today with Land Rover of Naperville!
At Land Rover of Naperville, we never stop innovating to make car buying a fun and stress-free promises. Buying online is just one of our many Patrick Promises to give you the best experience possible. If you have questions about purchasing your next car online, contact our sales team today!