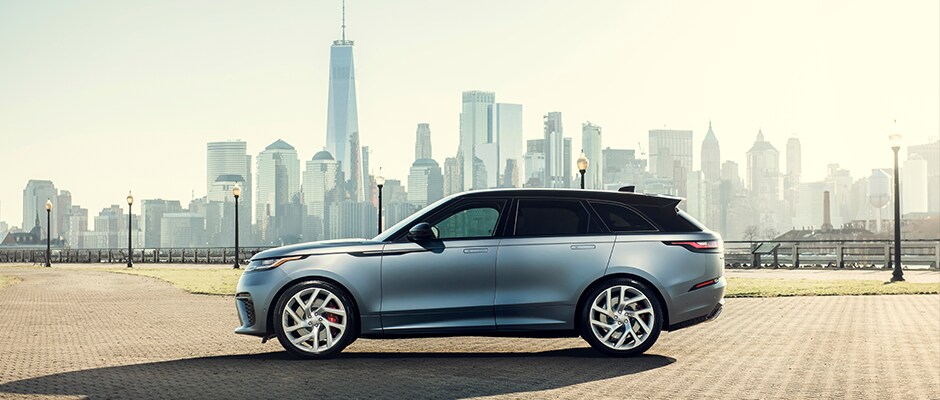 THE AVANT-GARDE RANGE ROVER
DELIVERS A POISED, CONFIDENT AND REFINED DRIVE
HIGHLIGHTS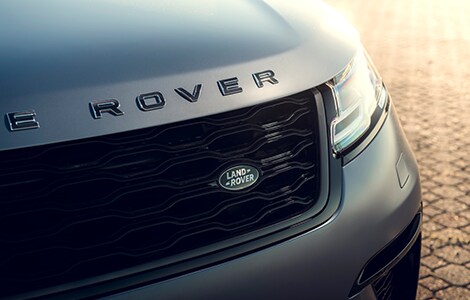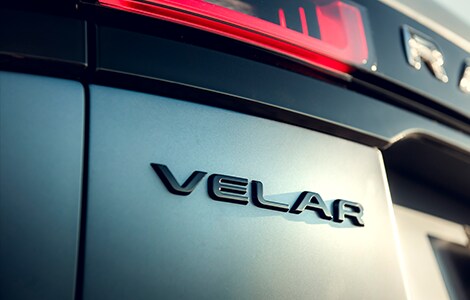 DESIGN
The reductionist design philosophy behind the Range Rover Velar is revolutionary. Flowing lines, flush door handles and an integrated rear spoiler all improve aerodynamics. Features including the foil-stamped grille give the vehicle's front profile an undeniable presence.
PERFORMANCE
Whether you're driving down the highway or negotiating a tricky country lane, the Range Rover Velar has capability at its core. All-Wheel Drive with Intelligent Driveline Dynamics and Torque Vectoring by Braking deliver an engaging, thrilling drive.
INFOTAINMENT
Unique to Land Rover, the InControl® infotainment system, Touch Pro™ Duo, looks and performs like no other. Delivering a wealth of information and entertainment, it features the most intuitive and advanced integrated technologies to ensure you can make the most of your journey.16
INNOVATION
The Range Rover Velar delivers efficient, refined and responsive driving from its advanced lineup of V6 and 4-cylinder Ingenium engines. The largely aluminum vehicle is manufactured with minimal waste, and when its life cycle is over, the Velar is 85% recyclable.
ON-ROAD PERFORMANCE
A confident, comfortable and truly enjoyable drive. Innovations such as Adaptive Dynamics and Electronic Air Suspension systems smooth the bumps and enhance on-road capabilities and ride quality.1 The Range Rover Velar offers handling that is agile, responsive and crisp, ensuring cornering is sure-footed and connected.
OFF-ROAD CAPABILITY
For confident off-road driving across a variety of terrains, the Range Rover Velar features Hill Descent Control (HDC®) as standard, along with the optional Terrain Response® 2. A choice of intelligent, permanent Land Rover All-Wheel Drive systems deliver unrivaled all-weather and all-surface capability.1
DRIVER AIDS
The Range Rover Velar has a wealth of optional and standard driving aids on hand to ease your driving experience. These innovative technologies will help you manage most parking, traffic, highway, road and even nighttime driving situations with ease.
COMFORT AND CONVENIENCE
Sublimely crafted seating options include Luxtec and Suedecloth, Perforated Grained Leather, Perforated Grained Leather and Suedecloth, Perforated Windsor Leather and Premium Textile. Climate-controlled front memory seats and heated reclining rear seats are also available.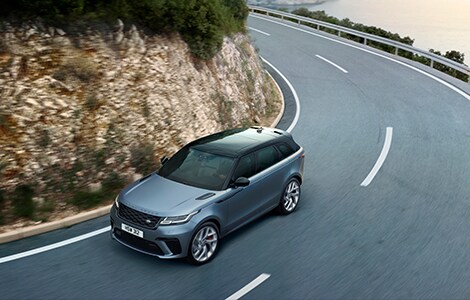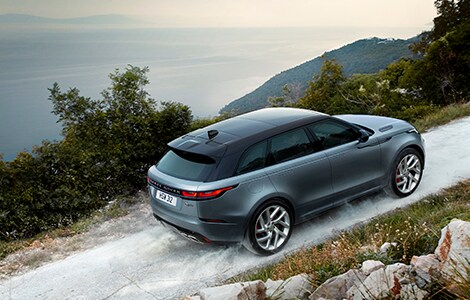 CAPABILITY
Torque-on-demand All-Wheel Drive (AWD) delivers outstanding on-road performance and full off-road capability. A carefully engineered suite of technologies in the Range Rover Velar maintains improved traction in various conditions.1
TECHNOLOGY
From its capacitive steering wheel controls, two 10" touchscreens and Head-Up Display to new standard features such as Blind Spot Assist and SiriusXM® Radio, the Range Rover Velar features the latest in design, innovation and technology.1,10
CONTACT US
DISCLAIMERS
1.   These features are not a substitute for driving safely with due care and attention, and will not function under all circumstances, speeds, weather and road conditions. The driver should not assume that these features will correct errors of judgment in driving. Please consult your owner's manual or your local authorized Land Rover Retailer for more details.
2.   Please remember that the safety belts in a vehicle constitute the primary protection system for driver and passengers in collisions. Airbags are not designed to deploy in all collisions. The airbag Supplemental Restraint System (SRS) is a supplement to the safety belts and is designed to work as a system with the safety belts. Although airbags provide additional protection, airbags without safety belts do not provide optimal protection in a crash. Always wear your safety belts. Children younger than 13 years old should always be properly restrained in a back seat, away from airbags. Never place an infant seat in the front seat.
3.   Meridian™ is a trademark owned by Meridian Audio Limited.
7.   European model shown.
10.   Driving while distracted can result in loss of vehicle control. Do not operate, adjust or view the navigation or multimedia systems under conditions that will affect your safety or the safety of others. Only use mobile phones and other devices, even with voice commands, when it is safe to do so.
14.   Trademarks: iPad®, iPod® and iPhone® are trademarks of Apple, Inc. registered in the U.S. and other countries.  SiriusXM® Satellite Radio is a registered trademark of Sirius XM Radio Inc. and its subsidiaries. HD Radio™ is a trademark owned by iBiquity Digital Corporation. WhiteFire™ is a trademark owned by Unwired Technology LLC. All other trademarks are the property of their respective owners.
16.   Do not use Land Rover InControl® features under conditions that will affect your safety or the safety of others. Driving while distracted can result in loss of vehicle control.